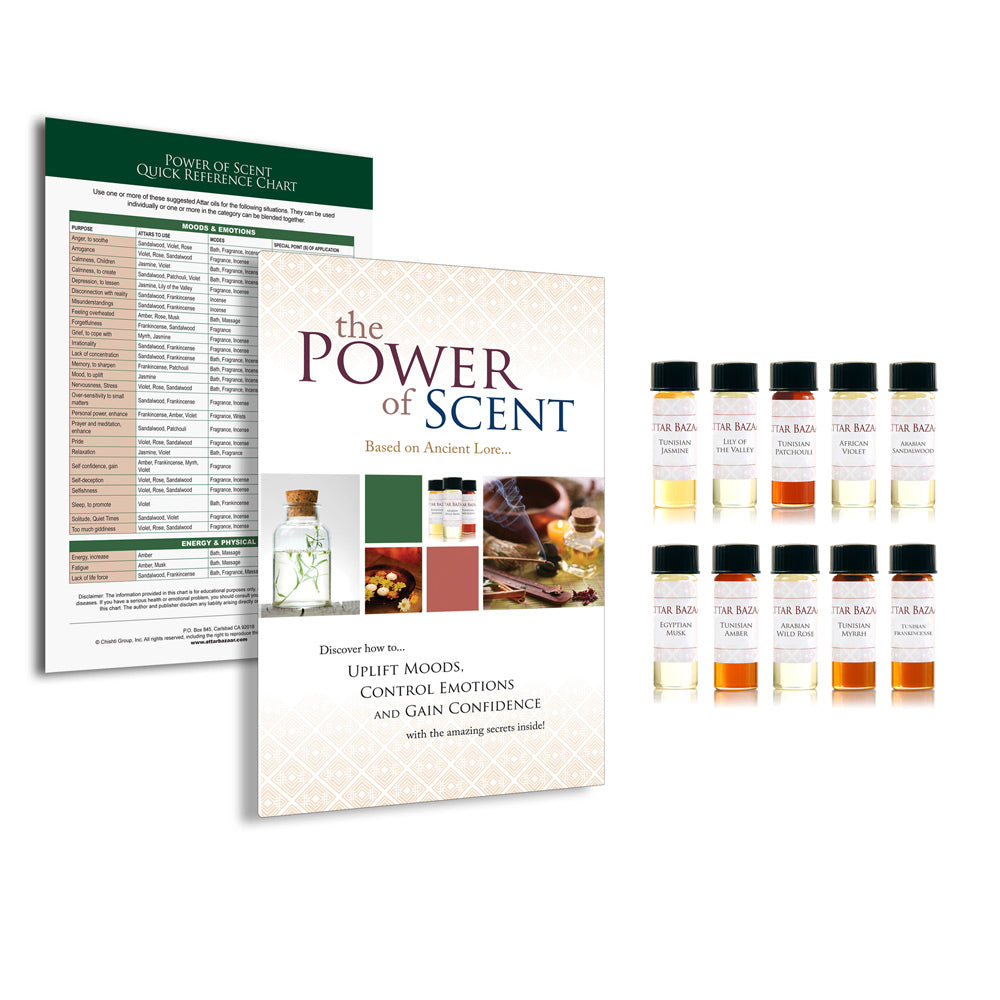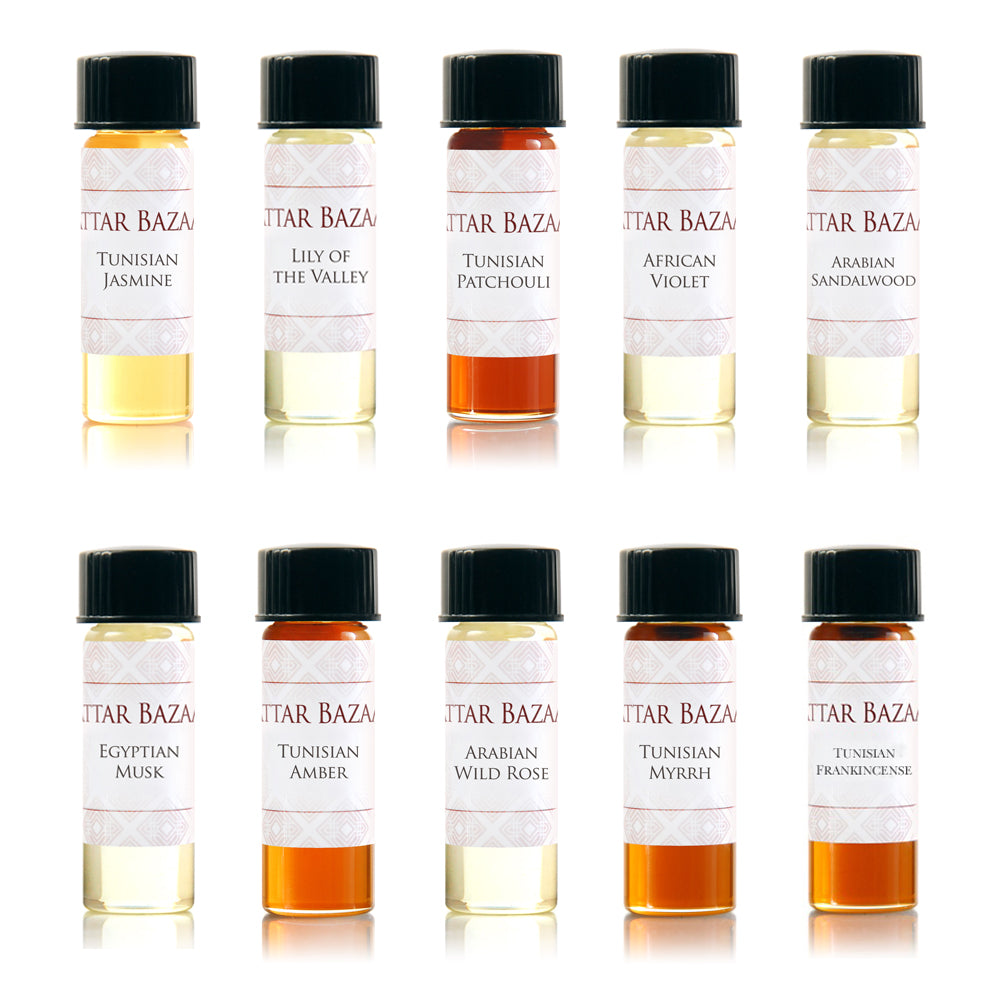 Power of Scent Package
Sale price

$69.99
Regular price

$114.95
(/)
---
Our unique and best-selling "Power Of Scent" package has given thousands of customers the secret insights into using Attar Bazaar fragrances to control emotions, uplift moods and balance environments. This special package includes an info-packed 40-page booklet on how to use fragrances based on ancient eastern aromatherapy principles, as well as ten beautiful scents, empty mixing bottles, and a quick-reference chart that tells you how, when and where to use Attar fragrances!
This is truly the perfect starter set, makes a great gift and best of all, is an incredible value.
Fragrance Oils Included: Egyptian Musk, Tunisian Amber, Arabian Wild Rose, Tunisian Myrrh, Tunisian Frankincense, Tunisian Jasmine, Lily of the Valley, Tunisian Patchouli, African Violet, and Arabian Sandalwood.
Our Tunisian Amber is warm and spicy with notes of honey and vanilla. It is also somewhat earthy with a very slight touch of a warm musk. This is a comfortable scent, easy to wear any time of day or night. Unobtrusive, soft and gentle. This rich scent only takes a drop and somehow gets warmer in character throughout the day. As one of our best sellers, we're confident you will fall in love with this scent!


Egyptian Musk by Attar Bazaar is exceptionally strong by comparison to other Egyptian Musk oils out there. It is fresh and earthy with some sweet and woody notes. Egyptian musk originally was created to be rubbed all over the entire body, thus its subtle scent! So, if you are looking for the scent to be very dominant, we would suggest using the oil more liberally in its application!

Arabian Wild Rose by Attar Bazaar is a bright and energizing rose scent. This rose floral scent imparts an exact experience of sniffing an actual fresh rose! It is delectably sweet with sharp elegant notes that brighten it like sunshine. As one of Attar Bazaar's best sellers, you can be sure you'll love Arabian Wild Rose.

Tunisian Myrrh by Attar Bazaar a divine herbal, deep, and resinous scent. It is delectably sweet and spicy, with notes of clove, licorice, and cinnamon.

Tunisian Frankincense by Attar Bazaar is an extremely rich, warm, exotic, and well rounded (not sharp) scent. It is superbly woody, earthy, and spicy with a subtle fruity note. As one of our best sellers you can be sure you'll love it!

Tunisian Jasmine by Attar Bazaar is a delightfully calming rich, sweet, and aromatic scent. It is intimately intoxicating, encouraging love. Smells like you're in a garden full of Jasmine.

Lily of the Valley by Attar Bazaar is the perfect feminine scent for both spring and summer. It is gloriously clean, fresh, and deeply flowery yet manages to stay light and bright. We once compared it to the lovely lily of the valley flowers growing in our front yard and it smelled exactly the same!

Arabian Sandalwood by Attar Bazaar is a dreamy well-rounded warm sandalwood. It is slightly sweet with creamy almond vanilla notes that round out to a dry woody sandalwood. As one of Attar Bazaar's best sellers, you can be confident you'll love Arabian Sandalwood.

African Violet by Attar Bazaar is an elegant true to violet scent. It is soft, sheer, and fresh. It imparts the feeling of curling up with a good book under a shade tree on a warm day. If you love florals, African Violet will make a great addition to your collection.

Tunisian Patchouli by Attar Bazaar is the perfect Patchouli scent. Patchouli exudes a rich, earthy, rounded fragrance, and promotes a harmonious quality to concentrate and focus attention. We sampled more than five dozen patchouli fragrances and selected this one from Tunisia in North Africa as the loveliest scent available.
Choose options