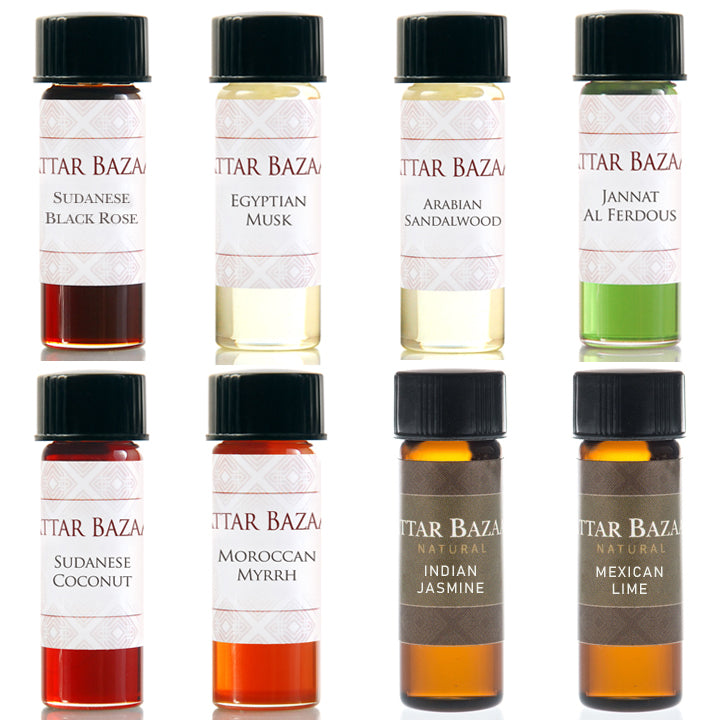 Summer Season 8 Pack
Sale price

$72.80
Regular price
(/)
---
Attar Bazaar Summer Season 8 Pack offers a wide variety of scents that celebrate summer at a 15% discount!
Attar Bazaar Summer Season 8 Pack has breezy bloom scents, desert dry scents, delectable tropical scents, as well as cool aquatic scents so you can fully embrace that summertime fun! Whether you are trying to capture the feeling of a peaceful stroll through a full bloom garden or sitting pool side with a fruit filled drink, Attar Bazaar has a scent for every mood.
 Sudanese Black Rose by Attar Bazaar is a dark sultry and mysterious scent. It is a scent with depth that has slight fruity and herbal notes. Sudanese Black Rose is an enigma but might be described like full bloom roses in humid night air mingling with market-square spices.
 Egyptian Musk by Attar Bazaar is exceptionally strong by comparison to other Egyptian Musk oils out there. It is fresh and earthy with some sweet and woody notes. Egyptian musk originally was created to be rubbed all over the entire body, thus its subtle scent! So, if you are looking for the scent to be very dominant, we would suggest using the oil more liberally in its application! 
 Arabian Sandalwood by Attar Bazaar is a dreamy well-rounded warm sandalwood. It is slightly sweet with creamy almond vanilla notes that round out to a dry woody sandalwood. As one of Attar Bazaar's best sellers, you can be confident you'll love Arabian Sandalwood.
 Jannat Al-Ferdous by Attar Bazaar is an exquisitely unique scent. It is reminiscent of a misty sea breeze with fruity and fresh notes. 
 Sudanese Coconut by Attar Bazaar is unlike any other coconut fragrances. It is a delicious tropical coconut from start to finish. It is rich and milky smooth with a deep toasted coconut note, a savory replica of the essence of coconut. It is a great scent to wear on a summer afternoon or if you just need some sunshine in your life!
Moroccan Myrrh by Attar Bazaar is a sensational herbal, deep, and resinous scent. It is very sweet and nutty, reminiscent of coconut, with notes of cinnamon. In comparison to our Tunisian Myrrh, this one is sweeter while the Tunisian Myrrh is spicier. Both have a lot to offer. Moroccan Myrrh is great in the warmer seasons and gives you that tropical paradise feeling.
Indian Jasmine by Attar Bazaar is a 100% natural steam-distilled Essential Oil. This particular Jasmine we sourced from India is exquisitely beautiful and instantly became one of our favorites. It is a true calming jasmine scent being intensely warm and sweet.
Mexican Lime by Attar Bazaar is a 100% natural Essential Oil. Our Mexican Lime is bright, uplifting, and refreshing. Mexican Limes are known as one of the best limes on the planet so you can be sure that our Mexican Lime Essential Oil is truly premium grade. Lime Essential Oil has many uses such as being an antiseptic, antiviral, astringent, and disinfectant. Diffuse to uplift your mood! Lime mixes well with other citrus essential oils such as Lemon, Grapefruit, Orange, and Bergamot. 
As with all essential oils, never use them undiluted. Do not take internally. Keep away from children. If applying an essential oil to your skin always perform a small patch test to an insensitive part of the body.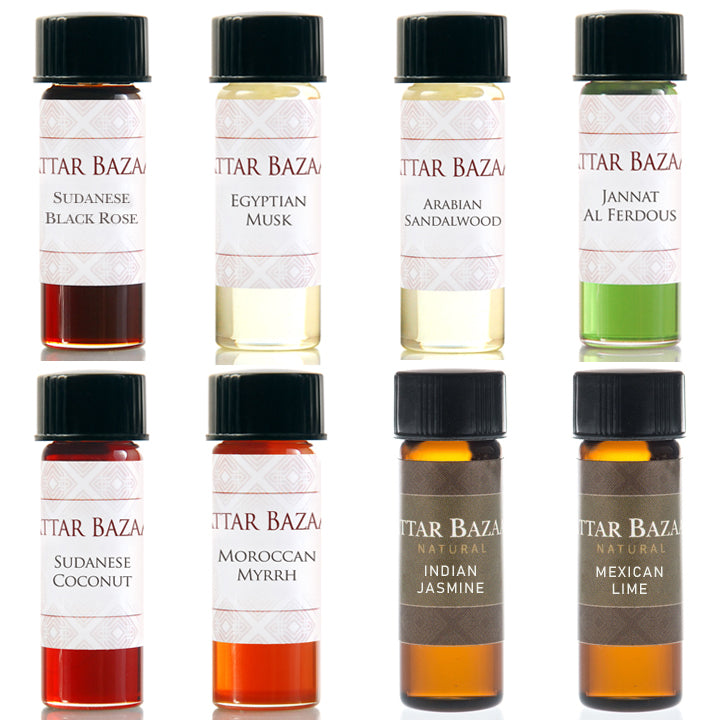 Summer Season 8 Pack
Sale price

$72.80
Regular price
Choose options