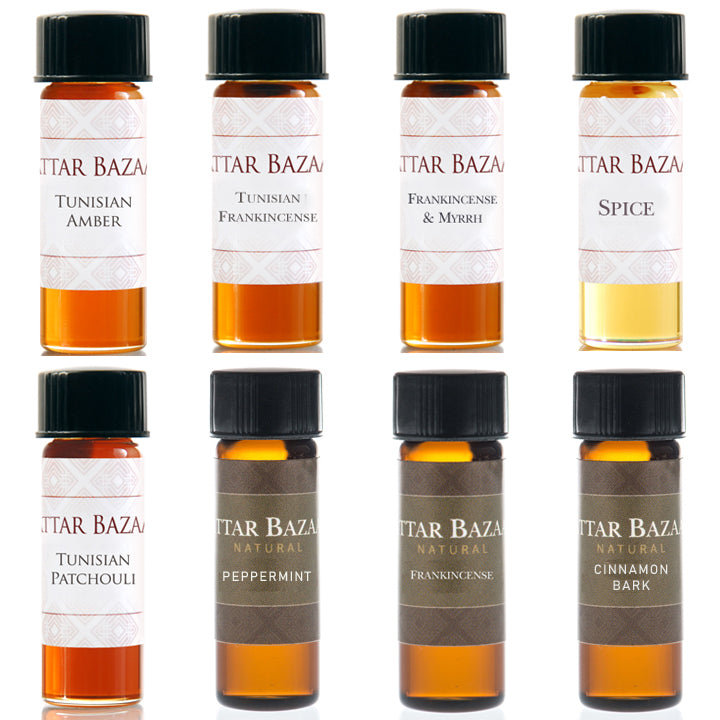 Winter Season 8 Pack
Sale price

$60.10
Regular price
(/)
---
Attar Bazaar Winter Season 8 Pack offers a wide variety of scents that celebrate the winter season at a 15% discount!

Attar Bazaar Winter Season 8 Pack is full of those holiday spice scents, wonderful woody scents, and crisp & sweet peppermint to kick off the winter season right! Whether you are searching for the feeling of family coming together for the holidays or for that exciting feeling of the changing seasons, Attar Bazaar has a scent for every mood.
Our Tunisian Amber is warm and spicy with notes of honey and vanilla. It is also somewhat earthy with a very slight touch of a warm musk. This is a comfortable scent, easy to wear any time of day or night. Unobtrusive, soft and gentle. This rich scent only takes a drop and somehow gets warmer in character throughout the day. As one of our best sellers, we're confident you will fall in love with this scent!
Tunisian Frankincense by Attar Bazaar is an extremely rich, warm, exotic, and well rounded (not sharp) scent. It is superbly woody, earthy, and spicy with a subtle fruity note. As one of our best sellers you can be sure you'll love it!
Frankincense & Myrrh by Attar Bazaar is truly exquisite compared to other frankincense & myrrh's out there. This is a combination of the two most widely used fragrances during the Christmas season: Frankincense and Myrrh. This blend is made from our best-selling Tunisian versions of each. It is a wonderfully rich and celebratory scent that is warm, woody, resinous, and akin to incense. This scent will give you that safe and cozy feeling!
Spice by Attar Bazaar is a wonderful holiday scent. It is reminiscent of holiday cooking aromas that is spicy with warming cinnamon and clove notes. There are also notes of vanilla that make this scent gentle and sweet. Great for the fall and winter months.
Tunisian Patchouli by Attar Bazaar is the perfect Patchouli scent. Patchouli exudes a rich, earthy, rounded fragrance, and promotes a harmonious quality to concentrate and focus attention. We sampled more than five dozen patchouli fragrances and selected this one from Tunisia in North Africa as the loveliest scent available.
Peppermint by Attar Bazaar is a 100% natural steam-distilled Essential Oil. It is a sharp, cool, and refreshing scent that is typical with the chemical menthol. There is also a sweetness to it. 
Frankincense Essential Oil by Attar Bazaar is a 100% natural steam-distilled Essential Oil. It has a fresh pine-lemon bouquet with delicate resinous and woody undertones. It is also spicy and somewhat earthy.
Cinnamon Bark by Attar Bazaar is a 100% natural Essential Oil. It is supremely spicy and delectably sweet. In fact, Cinnamon Bark Essential Oil is spicier and sweeter than its leaf oil counterpart. Our Cinnamon Bark is top notch and you'll be sure to love it.

As with all essential oils, never use them undiluted. Do not take internally. Keep away from children. If applying an essential oil to your skin always perform a small patch test to an insensitive part of the body.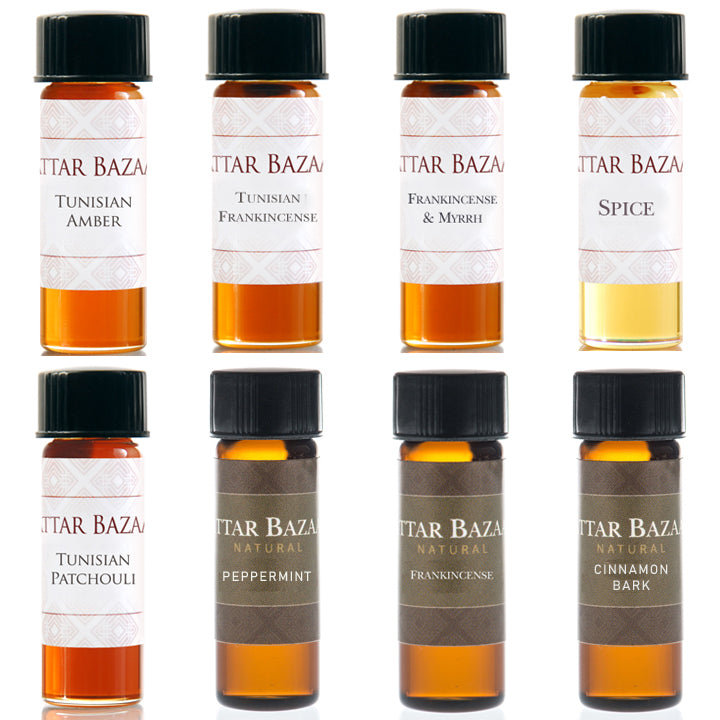 Winter Season 8 Pack
Sale price

$60.10
Regular price
Choose options